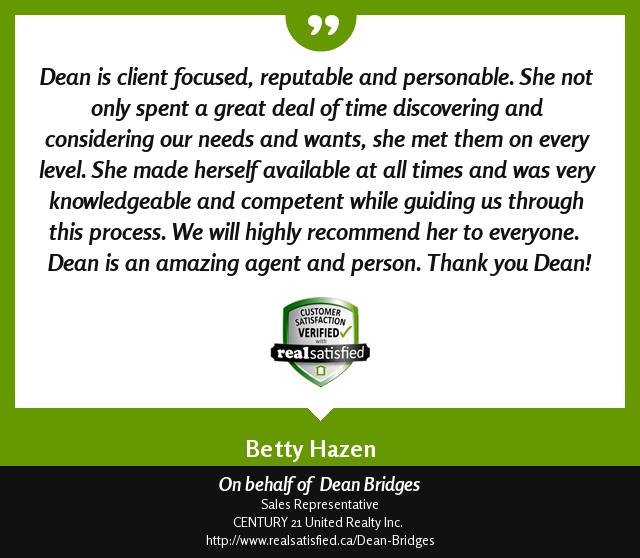 Betty Hazen
Dean is client focused, reputable and personable. She not only spent a great deal of time discovering and considering our needs and wants, she met them on every level. She made herself available at all times and was very knowledgeable and competent while guiding us through this process. We will highly recommend her to everyone. Dean is an amazing agent and person. Thank you Dean!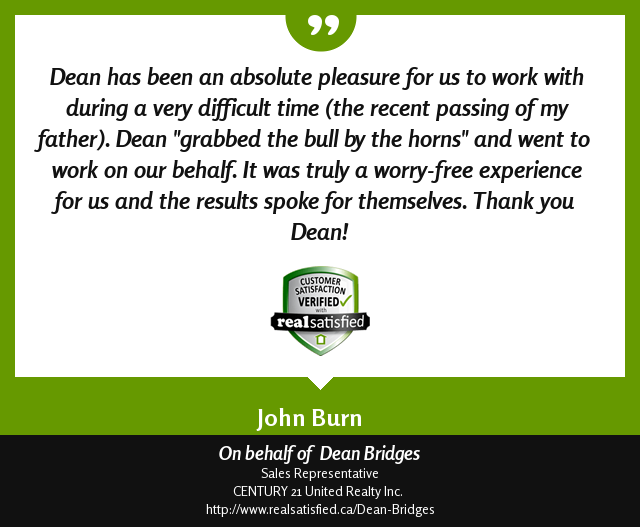 John Burn
Dean has been an absolute pleasure for us to work with during a very difficult time (the recent passing of my father). Dean "grabbed the bull by the horns" and went to work on our behalf. It was truly a worry-free experience for us and the results spoke for themselves. Thank you Dean!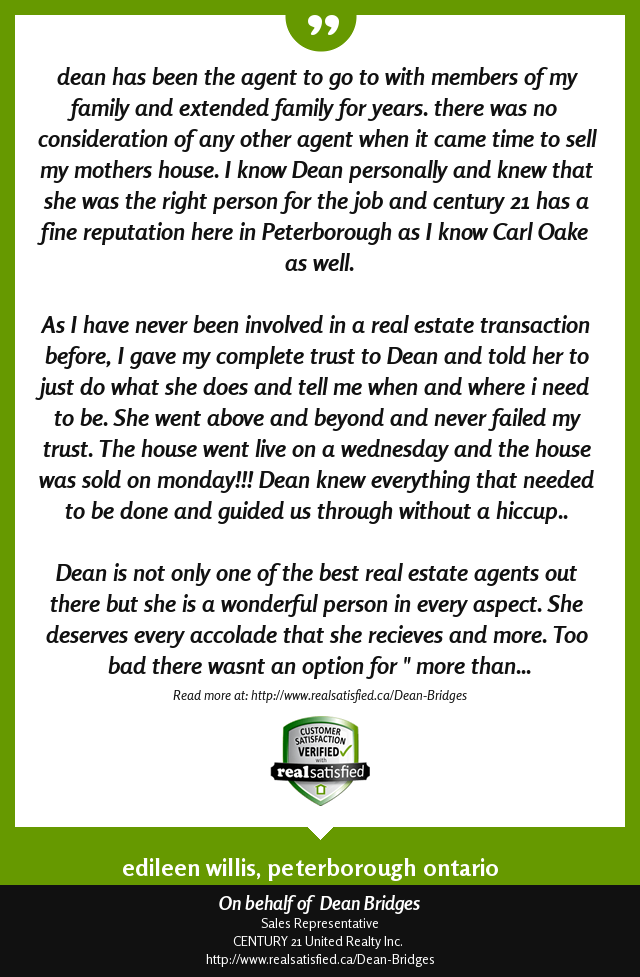 Edileen Willis
Dean has been the agent to go to with members of my family and extended family for years. there was no consideration of any other agent when it came time to sell my mothers house. I know Dean personally and knew that she was the right person for the job and century 21 has a fine reputation here in Peterborough as I
know Carl Oake as well.
As I have never been involved in a real estate transaction before, I gave my complete trust to Dean and told her to just do what she does and tell me when and where i need to be. She went above and beyond and never failed my trust. The house went live on a wednesday and the house was sold on monday!!! Dean knew
everything that needed to be done and guided us through without a hiccup.
Dean is not only one of the best real estate agents out there but she is a wonderful person in every aspect. She deserves every accolade that she recieves and more. Too bad there wasn't an option for " more than excellent"!!!! Not only did Dean do her job beyond compare.... but our first offer came from one of the first people to look at
the house. It was up for sale on Wednesday.. the buyers came to look on Friday , they made their offer on Monday and we accepted! OVER asking price!!!! Dean made it seem so easy. Thank you Dean for making a seemingly daunting task so seamless and easy, will sing your praises to everyone i know whether they need to buy or sell or not!!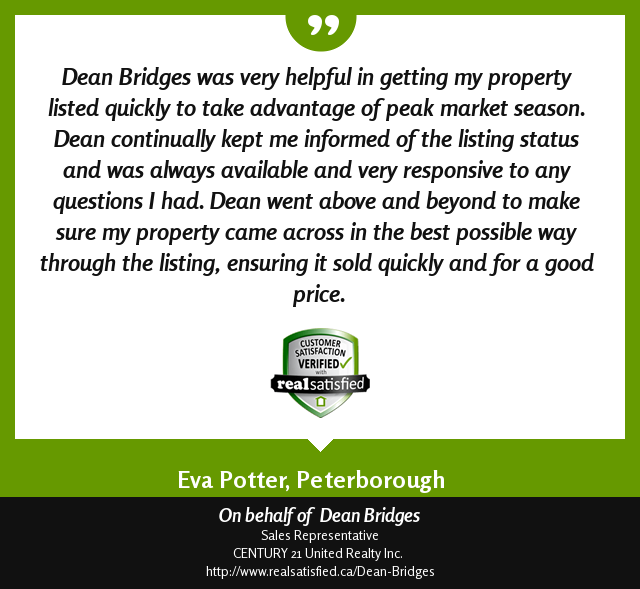 Eva Potter
Dean Bridges was very helpful in getting my property listed quickly to take advantage of peak market season. Dean continually kept me informed of the listing status and was always available and very responsive to any questions I had. Dean went above and beyond to make sure my property came across in the best possible way through the listing, ensuring it sold quickly and for a good price.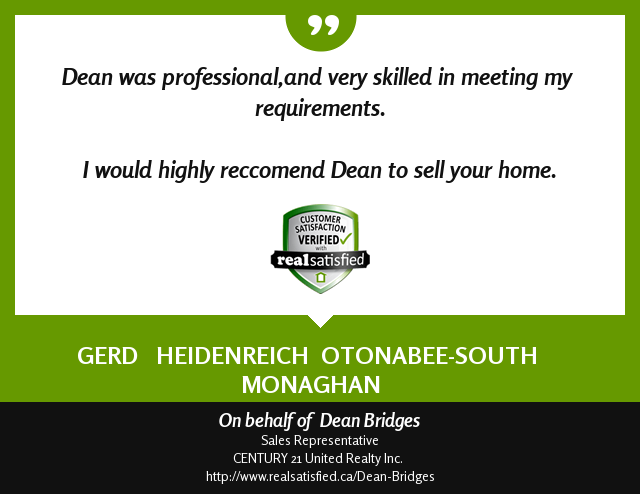 Gerd Heidenreich
Dean was professional, and very skilled in meeting my requirements. I would highly recommend Dean to sell your home.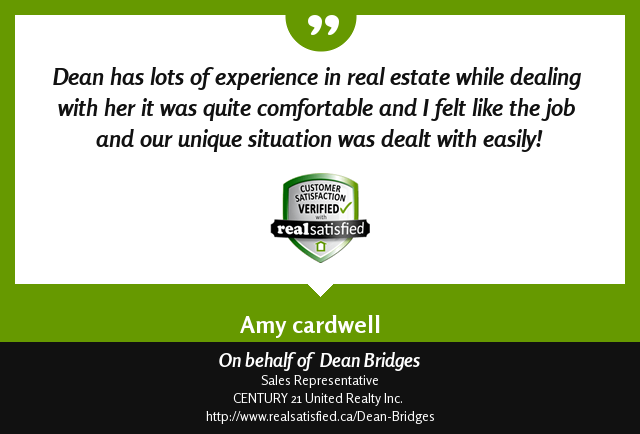 Amy Cardwell
Dean has lots of experience in real estate while dealing with her it was quite comfortable and I felt like the job and our unique situation was dealt with easily!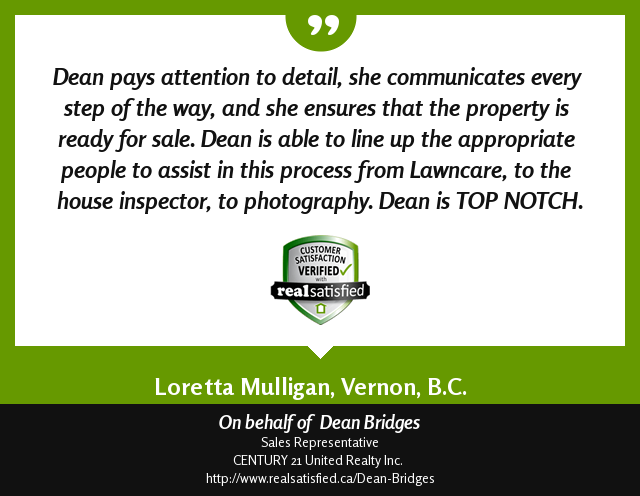 Loretta Mulligan
Dean pays attention to detail, she communicates every step of the way, and she ensures that the property is ready for sale. Dean is able to line up the appropriate people to assist in this process from Lawn-care, to the house inspector, to photography. Dean is TOP NOTCH.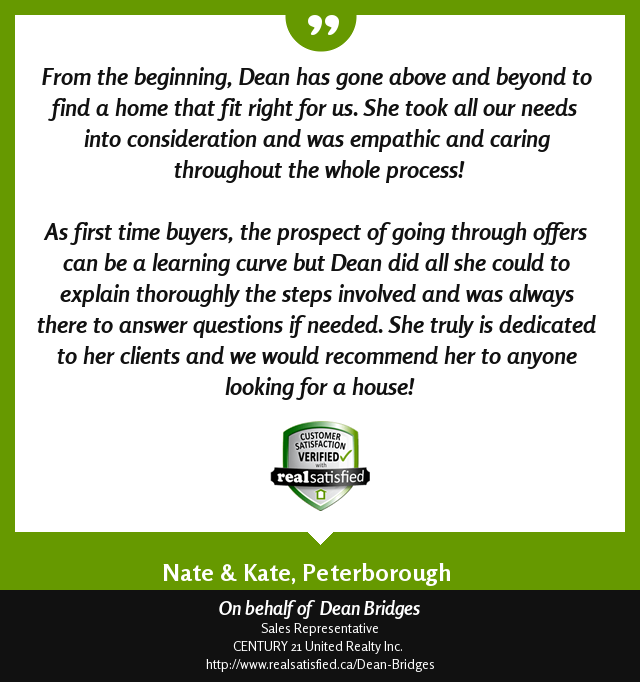 Nate & Kate
From the beginning, Dean has gone above and beyond to find a home that fit right for us. She took all our needs into consideration and was empathic and caring throughout the whole process!
As first time buyers, the prospect of going through offers can be a learning curve but Dean did all she could to explain thoroughly the steps involved and was always there to answer questions if needed. She truly is dedicated to her clients and we would recommend her to anyone looking for a house!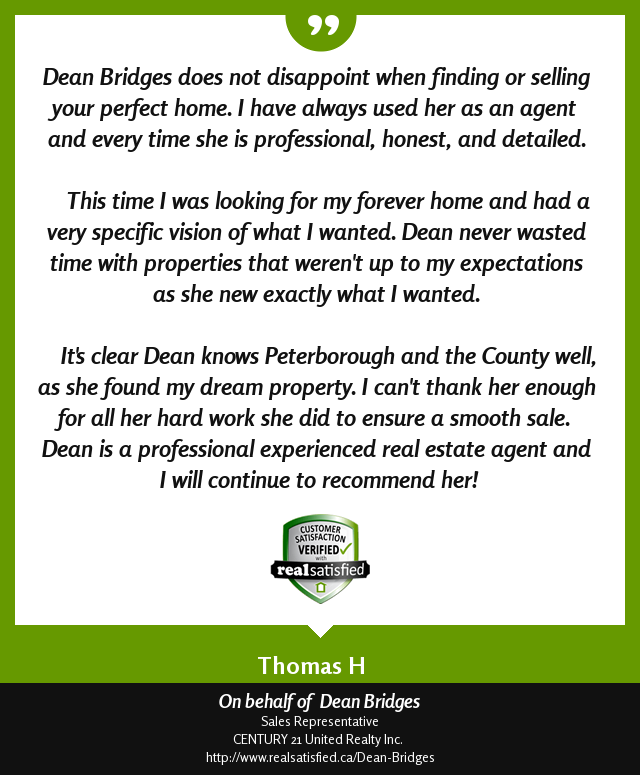 Thomas H
Dean Bridges does not disappoint when finding or selling your perfect home. I have always used her as an agent and every time she is professional, honest, and detailed.
This time I was looking for my forever home and had a very specific vision of what I wanted. Dean never wasted time with properties that weren't up to my expectations as she new exactly what I wanted. It's clear Dean knows Peterborough and the County well, as she found my dream property. I can't thank
her enough for all her hard work she did to ensure a smooth sale. Dean is a professional experienced real estate agent and I will continue to recommend her!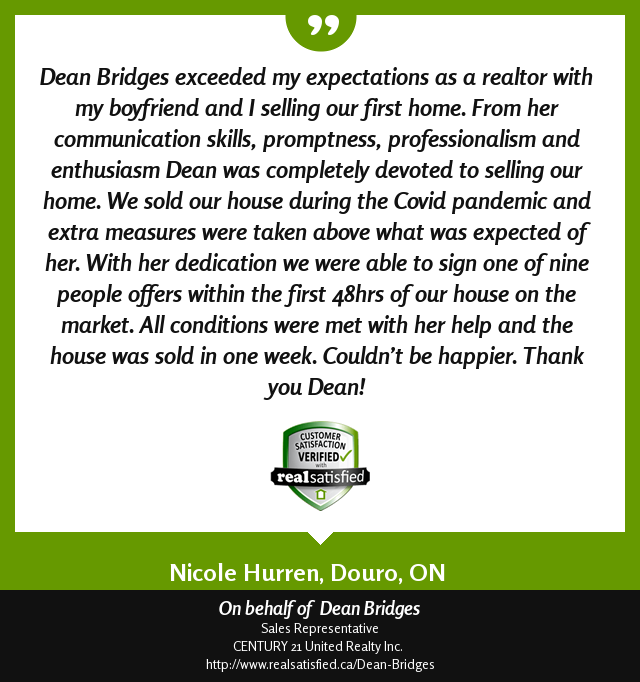 Nicole Hurren
Dean Bridges exceeded my expectations as a realtor with my boyfriend and I selling our first home. From her communication skills, promptness, professionalism and enthusiasm Dean was completely devoted to selling our home. We sold our house during the Covid pandemic and extra measures were taken above what was
expected of her. With her dedication we were able to sign one of nine people offers within the first 48hrs of our house on the market. All conditions were met with her help and the house was sold in one week. Couldn't be happier. Thank you Dean!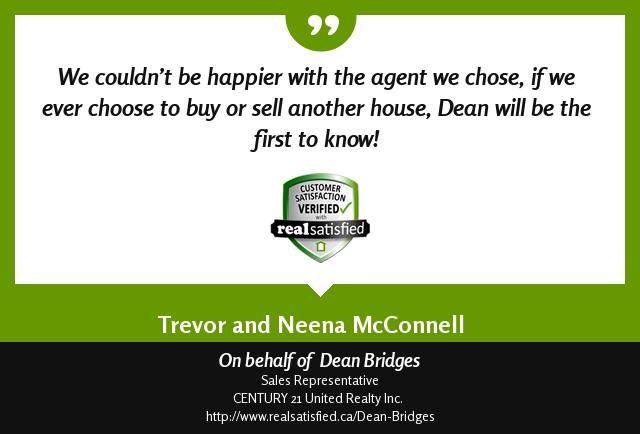 Trevor and Neena McConnell
We couldn't be happier with the agent we chose, if we ever choose to by or sell another house, Dean will be the first to know!